Measuring Up – Extends a Helping Hand in these
challenging times
Use these Measuring Up Lesson Packs that are pulled from our current program.
Each subject and grade offer 3 complete lessons that you can use in your e-learning models.
Print and/or use online to support your efforts to provide virtual classroom instruction.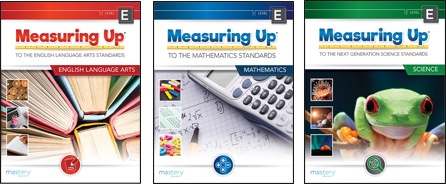 The Try It Out sample features:
3 full student lessons with complete Teacher Edition lesson
1 full Table of Contents for your grade level
Correlation to the standards
Developed to meet the rigor of the standards, Measuring Up employs support for using and applying critical thinking skills with direct standards instruction that elevate and engage student thinking.
Standards-based lessons feature introductions that set students up for success with:
Vocabulary in Action
Relevant real-world connections
Clearly identified learning goals
Connections to prior-learning
Guided Instruction and Independent Learning strengthen learning with:
Deep thinking prompts
Collaborative learning
Self-evaluation
Demonstration of problem-solving logic
Application of higher-order thinking
Flexible design meets the needs of whole- or small-group instruction. Use for:
Introducing standards
Reinforcement or standards review
Intervention
Extend learning with online digital resources!
Measuring Up Live 2.0 blends instructional print resources with online, dynamic assessment and practice. Meet the needs of all students for standards mastery with resources that pinpoint student needs with customized practice.


Peoples Education Inc. DBA Mastery Education | 800-822-1080 | MasteryEducation.com | Fax: 201-712-0045