5 Take-Aways for Using Data to Inform Classroom Instruction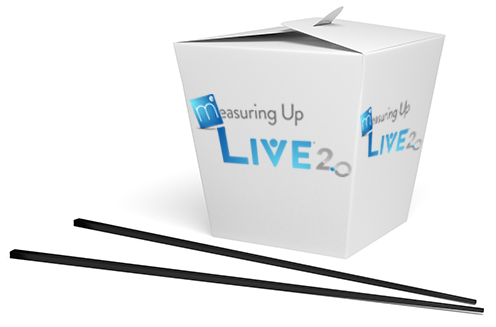 For the past decade, educators have been increasingly focused on collecting and using data to inform instruction. But with so much data, it's easy to become overwhelmed. Here are five take-aways for using data to inform your classroom instruction.
1. Daily Formative Data
Data does not always have to take the form of an assessment. Educators are constantly observing learning behaviors in the classroom that lead to employing scaffolding techniques and pacing adjustments. 1 Like a nurse taking a pulse, there are strategies educators can use to take the "pulse" of student learning. Thumbs Up is a no-prep activity that is easily incorporated into any lesson. Stop periodically to ask students to show two thumbs up to indicate understanding, one up-one down if they aren't sure, and two thumbs down if they need help. Instantly you will know whether you should move ahead, readjust or re-teach.
An easy to way to quantify pulse-taking is using an Exit Ticket also called Ticket Out the Door or Exit Slip. Keep a stack of notepaper handy to distribute as a "ticket" for students to complete at the end of a lesson. Select only one or two questions at a time; questions should be reflective and can be as simple as asking students to write one thing they learned. Then, sort the responses into three groups: students who show understanding, students who show some understanding, and students who don't. Use this data — 20% of my students just didn't get this!— to adjust instruction.
Try Exit Ticket with one of these questions:
Write a question you still have about today's topic.
Write down one thing I can explain again.
How would you explain today's lesson to a classmate who is absent?
Pulse-taking strategies give you the ability to react immediately and have the added benefit of engaging students in their own learning.
2. Challenging Every Student
Our goal as educators is to provide personalized learning for every student. It is important to balance "big picture" summative data with daily performance. Taking the class pulse can help, but isn't really specific enough to account for individual student progress. Think about your system of formative data collection in terms of where the data comes from and whether or not it is:
on-going and intentional,
standards-based, and
specific enough to differentiate instruction.
Analyzing data to plan a course of action for each student is time consuming. One way to streamline the process is by using a computer-based management system (CBM). CBMs keep you informed of student performance while freeing up instructional time. Look for standards-based technology that is easy to use for both teachers and students; one that provides a personalized plan for each student based on performance. A high quality CBM will include the following:
Standards-based assessment
Standards-based practice
Adaptive technology
Real-time reports that yield results as:

Progress towards standards mastery
Time on task
Personalized practice
Suggested student grouping
Additional lessons and /or practice
Data by student, class, school and district
Customizable formats
3. Identifying Gaps
Using data is an effective way of identifying students in need; grouping students with like needs is an efficient way to provide differentiated instruction. CBMs are an excellent source of providing immediate data to move students in and out of groups, keeping them fluid and targeted. Whether you use print-, technology-based resources or a combination, look for those that provide standard-specific information to pinpoint needs and monitor growth.
4. Communicating With Stakeholders
Talking about data with administrators, parents, colleagues, and students themselves is an important part of a school-wide process of improvement. Summative assessment data allows for goal setting and trend analysis; it is also a good way to gauge how well students are performing compared to other grade-level students. Formative assessment data lets you monitor how well students are progressing towards mastery. Use the two in tandem to provide a well-rounded picture of student learning.
5. Improving Practice
Have you heard this before? The definition of insanity is doing the same thing over again expecting different results. If we truly want to improve our instructional practices, we must take time to reflect on them. To prevent "drowning in a sea of data" 2 educators must be introspective time to pose questions about their practices, collect and analyze data, reflect, make changes, and share their experiences with others.
Administrators can set the tone for introspection by providing opportunities for:
teachers to reflect on practices at faculty, grade- and department-level meetings,
professional development (i.e., conferences, workshops, professional reading), and
professional learning communities.
Becoming Data-Rich
Schools succeed when they are data-focused, when summative and formative data are used as a tool to examine trends, identify and fill gaps, and make immediate adjustments to instruction. Creating an environment that includes data-rich conversations and reflective practices leads to data-informed decisions that improve teaching and learning.
Looking for proven program to support teachers and students? Measuring Up is a state-customized blended solution that offers standards-based print instruction as well as a digital component that delivers diagnostic/formative assessment and adaptive practice. The lesson format from the Measuring Up print instructional worktexts easily allows the teacher to introduce, review, and practice on a targeted standard. The lesson activities can be used as to provide daily formative data as well as exit tickets and support improving practices. The digital component also provides another way to offer data to inform instruction and identify gaps.
To learn more about Measuring Up and how it helps students build standards mastery, visit us at masteryeducation.com today!
References
1 Alber, Rebecca. 3 Ways to Use Valuable Students Data to Inform Your Classroom Instruction (3/2/17). Edutopia. Retrieved 3/21/18 from www.edutopia.org.
2 Ferlazzo, Larry. How to use data & how not to use it in schools (2/27/16). EdWeek Blog. Retrieved 3/21/18 from www.blogs.edweek.org.