Student Success is linked to effective lesson planning!
Student Success is linked to effective lesson planning!
Effective lesson planning is a thoughtful process that involves many elements to ensure goals, expectations and mastery is met.
FILL OUT THE FORM TO VIEW CHECKLIST:
9 QUESTIONS TO ASK FOR EFFECTIVE LESSON PLANNING
Look no further for a supplemental resource that can be integrated into the lesson planning process that supports assessment measures and standards-driven instructional lessons.
Developed to meet the rigor of the standards, Measuring Up employs support for using and applying critical thinking skills with direct standards instruction and assessments that elevate and engage student thinking.

Worktext Lessons
Standards-based lessons feature introductions that set students up for success with:
Vocabulary in Action
Relevant real-world connections
Clearly identified learning goals
Connections to prior-learning
Guided Instruction and Independent Learning strengthen learning with:
Deep thinking prompts
Collaborative learning
Self-evaluation
Demonstration of problem-solving logic
Application of higher-order thinking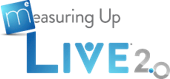 Customized Formative Assessment
Prescriptive, Adaptive Practice
Extend earning with online, dynamic assessments and adaptive practice to monitor learning and support academic growth.
Create and customize assessments with 60,000+ items that are tagged by standard, difficulty level, and cognitive level
Practice state assessments available in the library
Use for formative, summative, diagnostic benchmarking or progress monitoring
Adaptive practice at the "just-right" level
Teacher activated or automatically prescribed from Insight results
Corrective feedback, text-to-speech features, and built-in rewards