Prevention to Intervention
Collecting meaningful data impacts teaching as it provides leading indicators of learning.
It happens in the moment, during instruction.
It allows change on the spot, so the teacher can be proactive.
The model becomes a preventative measure instead of being reactive.
Fill out form to download "5 Strategies for Rapid Formative Assessment"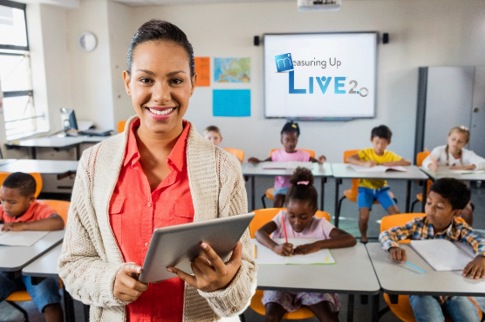 Rapid Formative Assessment
Integrating a short-cycle formative assessment during a lesson provides feedback to teachers. The teacher can use that information to provide feedback to their students to help make decisions. These in-the-moment assessments provide immediate feedback during the process of learning. When these types of rapid formative assessments are woven into classroom activities, there is a 70–80% increase in the speed of student learning.
For this to happen, there are some criteria for the feedback. The feedback must
be clear and purposeful,
be directed at the right level,
occur as the students are learning, and
provide information to students on how to redirect their thinking and why.
When instruction and assessment become linked and assessments are used in a more authentic manner, the feedback will impact the classroom and unlock the learning potential for every student.
Measuring Up can be an effective resource, preventing the failure to learn with standards-based instructional and assessment options.
Measuring Up checks the boxes as it supports prevention to intervention with print and digital options.
Creating transparent learning targets so learning can be visible
Integrating feedback to engage students and foster collaboration
Model with strategic questioning Strategies to promote critical thinking
Rapid formative assessment resources to integrate strategies to promote thinking
Real-time Data and Reporting
Exit/Admit Tickets
Supplemental Instruction supporting critical thinking
Supplemental Instruction to Re-teach
Application to standards knowledge to test items
Request more information, a sample, or demo to see why educators choose Measuring Up!