me-2489
Using S.M.A.R.T. Framework to Outline Your Before and After School Programs
Maximize RTI for Effectiveness . . . Choose S.M.A.R.T.
Fill out form and download your S.M.A.R.T. worksheet . . . Before and After School programs for improved academic performance with increased test scores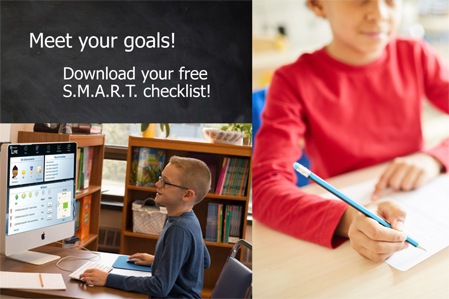 Many schools use Before and After School programs to provide an opportunity to supplement learning from the school day and to lend assistance to students whose needs extend beyond what they can receive in the classroom. Based on the timeframe set aside for these programs, instruction must be focused and targeted to meet the overall goal. Determining the right level of difficulty, pace, and the most appropriate standards to teach is critical to effectively individualizing instruction to support success. Use the S.M.A.R.T. framework that follows to outline and develop a successful program.
Specific
With an overall goal to improve academic achievement and performance, define specific goals so that the program is focused and meaningful. Specific goals may include improving test scores, standards mastery, and grades.
Measurable
To evaluate the impact of the program, you must be able to measure your specific goals using available data as well as the ability to collect program-use data to track progress.
Achievable
Are the specific goals achievable? Do these goals align with what is happening during the school day? How will you establish the ability to modify and redirect instruction to support achieving the goals? You also need to define a system of communication.
Relevant
Your program must have relevant activities and instructional resources that align to the goal. Choosing academic instructional resources that are specific to the goals of the program are critical to reaching success.
Time
The time available for these programs vary and can have a significant impact on the success. Taking into consideration the time frame, choose goals that can be met within that period.
Measuring Up can be an effective resource to maximizing RTI for use in Before and After School programs.
Measuring Up checks the boxes for your Before and After School Programs with material that is focused on academic improvement and increased test scores.
Aligned to State Standards and State Assessment
Delivers targeted and standards-focused instruction, review, and practice with items that reflect the state assessment
Built-in opportunities for informal and formal checks for understanding
Lessons and practice engage and motivate students as well as encourages students to take ownership in their learning
Real-time Data and Reporting
Practice tests that mirror the state assessment
Adaptive practice to support students at individual levels to reinforce mastery
Request more information, a sample, or demo to see why educators choose Measuring Up!