Ways to Make "Back-to-School" Responsive to Students' Individual Needs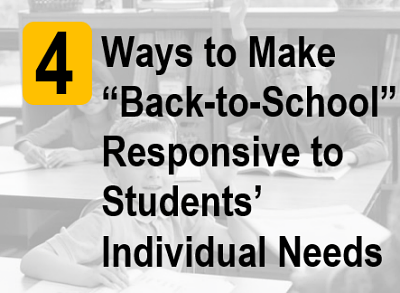 Let us move the conversation forward!

Fill out the form and download your free checklist: "Four Ways to Become More Responsive to Students' Individual Needs!"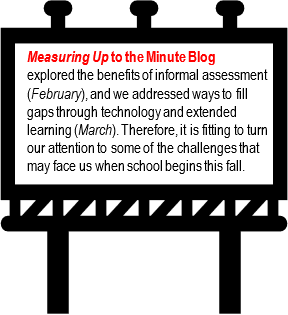 Back to school 2021 will be an exciting time for education . . . putting the lessons learned from educating in a pandemic will be top-of-mind. Although as educators we have always known that one size does not fit all, we now know that being "individually responsive"1 to every student is key. In January we started the new year by challenging ourselves to examine ways to become more in-tune to the needs of students — to meet them where they are and to move them forward.
Moving into an individually responsive mindset takes time. So, now is a good time to begin talking about what that means for your educators and students. Begin having conversations with your staff about strategies and resources that will help them to better meet the needs of the ever-broadening diversity of their classrooms.
Here are four ways to become more responsive to the individual needs of students:
Implement diagnostic assessment that saves time, is standards based, easy to administer and score, and provides data to pinpoint areas of strengths and weaknesses.
Decrease response time to prevent gaps from widening and keep learning moving ahead; develop systematic strategies that increase teacher agility to identify when breaks in learning occurs and how to remediate rather than repeat instruction.
Individualized instruction and practice are essential for maximizing instruction and crafting practice that focuses on needs; the use of technology has been proven an effective way to provide a one-to-one match of needs to instruction, practice, and progress monitoring.
Engagement is a critical element in keeping students on task and moving ahead. Engagement is more than interesting stories and colorful images; it is the quality of feeling successful and believing in ones' own ability. Building ways to inspire learning is essential to creating life-long learners.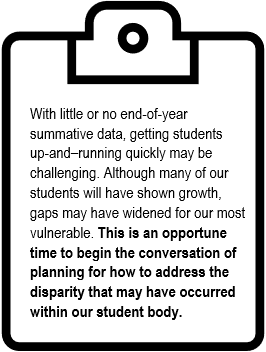 Reference
1 Mineo, Liz. Time to fix American education with race-to-space resolve. Harvard Gazette. April 20, 2020. Retrieved from https://news.harvard.edu/gazette/story/2020/04/the-pandemics-impact-on-education/ on December 15, 2020.

Peoples Education Inc. DBA Mastery Education
25 Philips Parkway, Suite 105 | Montvale, NJ 07645 | 800-822-1080 | MasteryEducation.com