Reducing the complexity of learning to read and do mathematics.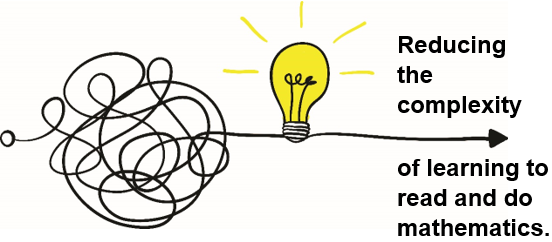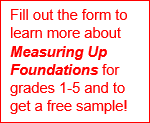 There is no doubt about it . . .
Return to the 2021-22 school year will be focused on the ever-widening learning gaps that may have occurred during the last year. Will our previous/current interventions be enough? Although we do not want to throw the baby out with the bathwater, it is time to take a critical look at how we plan to close gaps and get students back on track.
It is well-known that assessment is the first step to any kind of intervention. An effective assessment system is one that is standards-based, easy to use, and provides the kind of data on which instructional decisions can be made. But what about those instructional decisions? Do your teachers know what to do when learning breaks down?
An important, but sometimes forgotten aspect of working with students who struggle, is reducing the complexity or cognitive load of new learning. For many students, learning to read or think mathematically is a complex process. So how can we reduce the cognitive load for these students? Here are four ways:

Reduce or remove distractions.
Remove any extraneous information or clutter no matter how interesting. In an approach called weeding (Maher & Marino, 2003) anything that may cause a distraction should be eliminated including information that may be interesting, but unimportant. They suggest keeping instruction simple and clear including uncluttered pages and computer screens.

Use relevant examples.
Helping students make connections to information or skills they already possess is critical to learning. "All learning involves transfer from previous experiences. Even initial learning involves transfer that is based on previous experiences and prior knowledge" (National Research Council 2000, p. 236).2 Therefore, using familiar examples to teach new skills and reminding students of what they already know fosters understanding.

Allow time to stop and think.
Breaking new learning into manageable parts is an effective way to reduce cognitive load. Strategically place questions throughout a lesson such as a "Think-Share-Pair" helps to focus students' attention and aids learning.

Scaffold learning.
Providing support to keep learning on track is essential to learning foundational skills. Using a Gradual Release of Responsibility Model "ensures that students are supported in their acquisition of the skills and strategies necessary for success." 3.
Conclusion
Making learning clear for students who struggle is always a challenge. Using these techniques, educators can help to bridge gaps by being mindful of keeping instruction clear and direct.
References
1 Mayer & Moreno 2003. Nine Ways to Reduce Cognitive Load in Multimedia Learning. Educational Psychologist, 38, 43–52.
Retrieved from
https://www.researchgate.net/publication/253772914_Nine_Ways_to_Reduce_Cognitive_Load_in_Multimedia_Learning/link/57799b9908aeb9427e2c00b4/download
2 National Research Council 2000, p. 236. Cited in Lent, ReLeah Cossett Lent, Overcoming Textbook Fatigue. Retrieved from http://www.ascd.org/publications/books/113005/chapters/Background-Knowledge@-The-Glue-That-Makes-Learning-Stick.aspx
3 Fisher, Douglas.2008. Effective Use of the Gradual Release of Responsibility Model. Retrieved from http://srhscollaborationsuite.weebly.com/uploads/3/8/4/0/38407301/douglas_fisher.pdf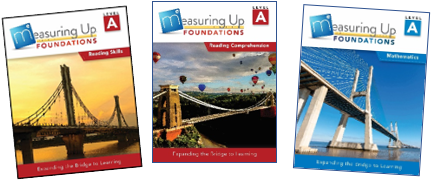 NEW! Introducing Measuring Up Foundations! Distinctly different, Measuring Up Foundations focuses on essential skills in reading and mathematics for the express purpose of closing learning gaps allowing students to bridge to grade-level learning. Using brain-based research, Measuring Up Foundations puts an emphasis on reducing the learning complexity of essential foundational skills of Reading Skills, Reading Comprehension, and Mathematics. Learn more about how Measuring Up Foundations accelerates learning to close the gap for students who struggle and English learners.

Peoples Education Inc. DBA Mastery Education 25 Philips Parkway, Suite 105 | Montvale, NJ 07645 | 800-822-1080 | MasteryEducation.com